These breakfast eggs are immersed in fresh Serrano chiles and tomatoes. My brother, Jimmy, taught me how to make these. He is a master artist in the kitchen. He learned the recipe from our mom, Dominga Mora Medrano, who would make these on weekends. The dish relies on a technique that involves a combination of par-frying and poaching.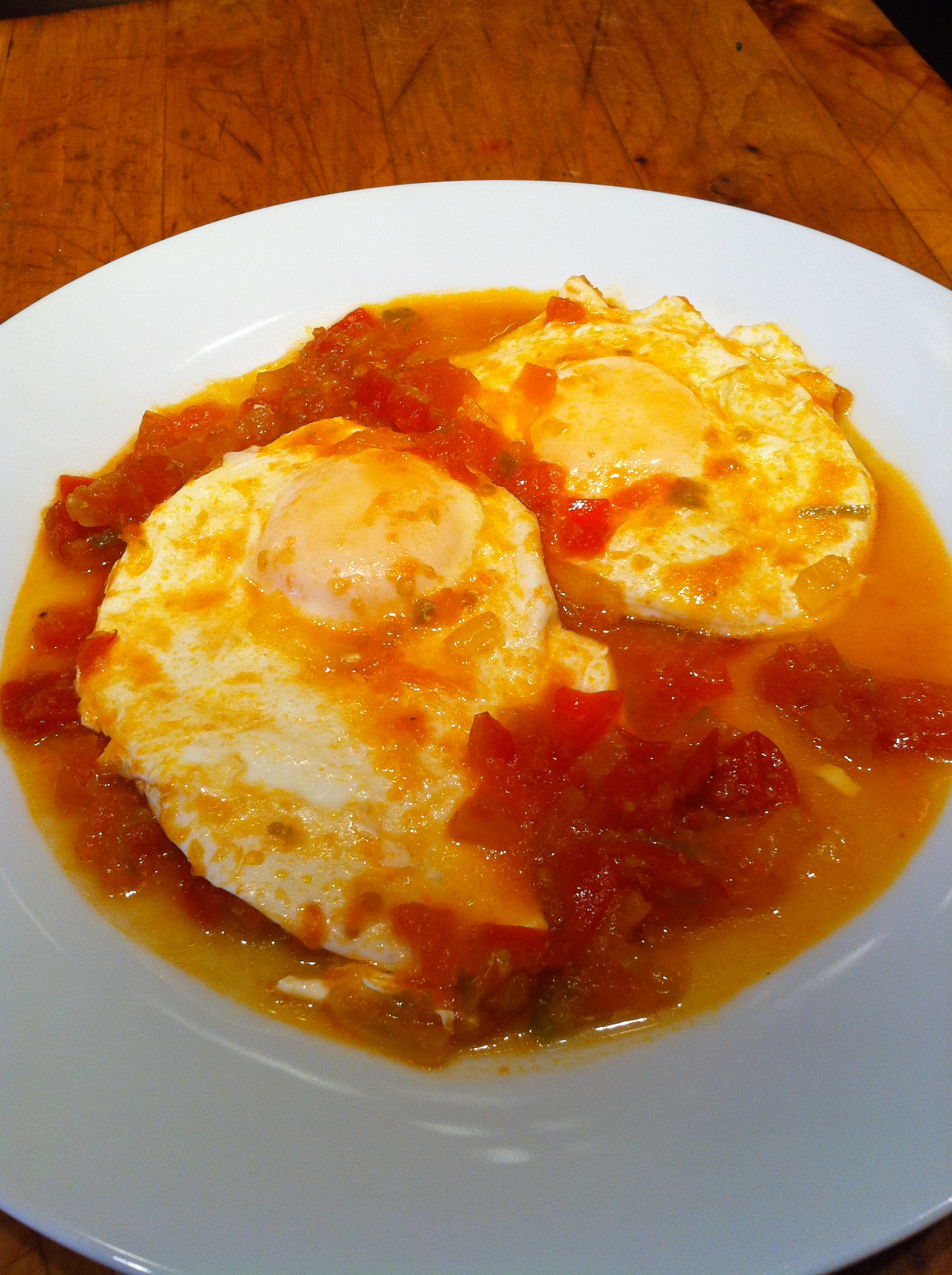 This gives eggs a quick solid form and also a tender texture.
Recipe, serves 4
Ingredients:
½ cup white onion, thinly sliced
3 Serrano chiles, thinly sliced
1 ½ cups tomatoes, finely diced
½ tspn salt
1 Tbsp Canola oil
2 cups water
4 eggs
additional oil as need for frying the egss
Method
1. In a large deep skillet, sauté the onions in the Canola oil until translucent
2. Add the diced tomatoes and continue cooking on low heat
3. Place the chile and salt in a molcajete (or blender or mortar & pestle) and grind to a paste.
4. Add the chile/salt paste and the water to the onions and tomatoes and bring to a simmer. The flavors develop quickly into a delicious sauce. Keep the sauce at a simmer and do not boil
5. In a nonstick frying pan add just enough oil to cover the bottom.
6. Add each egg, one by one, and fry just to the point where the bottom of the egg white is firm. Then slide the egg into the chile and tomato sauce. The acid in the tomatos will react with the protein to keep the egg white from toughening and cooking too fast. The eggs will remain tender and moist.
7. When all the eggs are immersed in the sauce, gently spoon some of the sauce over the egg yolks to cook them. Keep the sauce at a very slight simmer and cook until the eggs are done to your liking.

I serve the eggs with flour tortillas. !Buen Provecho!