This morning I pinched off some beautiful plump Basil leaves for some Bruschetta I'm serving at lunch.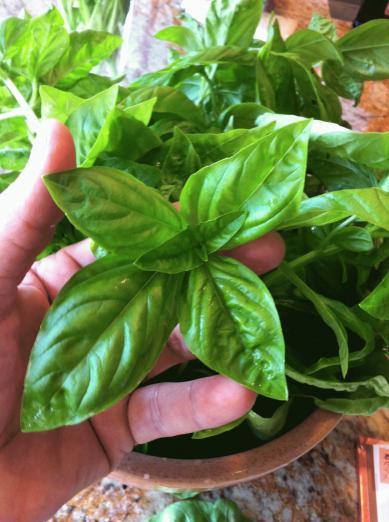 I find that in Houston the basil plant has to be in the shade during the blazing heat so either plant it next to a building, a tall bush or place a patio umbrella next to it.
RECIPE
Ingredients
-1 1/2 cup tomato, small dice, fresh from your farmer's market.DO NOT regrigerate the tomato.
-1/2 cup Basil leaves, coarsely chopped
-1/4 cup extra virgin olive oil
-2 Tbsp onion, fine mince
-1 whole garlic clove
-salt to taste
-6 slices Italian or other artisan bread that you like
Method
1. Toast the bread in a F350
o
until it is slightly golden. Or you can place the slices under a broiler then flip them. Allow to cool.
2. In a mixing bowl combine the tomato, olive oil, basil and onion, add salt to taste
3. Rub each bread slice with the garlic clove to give it a hint of garlic peppery taste
4. Spread the tomato mixture onto each slice and serve immediately.
Take a nice glass of white Orvieto with this bruschetta. It's divine.