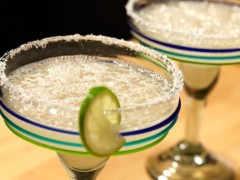 My friend, Chef Iliana de la Vega, shows how to make THE margarita. Perfect for Cinco de Mayo guests but also year-round. Cinco de Mayo is not the celebration of Mexican Independence. It remembers the battle of Puebla, a city just about 100 miles south of Mexico City, where Mexicans successfully fought against the attack of a much larger army of French invadors.
Chef De La Vega's approach is a lesson in fresh ingredients and straightforward, proper blends. THE margarita, amigos and amigas:

Thank you to the Culinary Institute of America for this video link.